Visit Estonia/Estonian Tourist Board
The goal of the Estonian Tourist Board is to enhance the popularity of Estonia as a travel destination and the international competitiveness of Estonian tourism products.
In selecting our activities, we wish to:
foster first visits from distant markets and repeat visits from adjacent markets,
increase the number of off-season visits,
prolong the duration of visits,
broaden the customer base with travellers of different ages, with higher demands, and higher expenditure.
We plan and conduct our marketing in collaboration with tourism enterprises and organisations. This collaboration also includes sharing expenses for the organisation of events and participation in fairs, etc.
Business Destinations
Business Destinations is a luxury magazine for the discerning corporate traveller. They bring you news, reviews, city guides, exotic food, great features from leading journalists, and top tips on hotels, airlines and meeting venues all complemented by stunning photography.
Launched in 2005, Business Destinations appearance may have changed over the years, but the quality of the content has always stayed high. Their team of in-house adventurers and roaming writers continue to bring you insights from across the globe, hunting down the best places to stay and things to do, so that every trip you take is the hassle-free pleasure it ought to be.
As well as their website, they bring you a quarterly dose of printed excellence, available from all good magazine retailers and via subscription. Now you can get to them on the move too, through Twitter and Facebook, so they can be your ultimate travel companion wherever you are.
Twisht
Villa Ammende is excited to be on twisht – where you can grab some exclusive deals, wish list and review our awesome experience.
The brand twisht is a bespoke travel & lifestyle platform. Twisht offers an integrated combination of social media exposure, business profiling, direct links, deal promotion, consumer reviews and a world-class awards initiative – connecting your travel & lifestyle business to a global millennial market. They embrace diversity because they recognize that everyone is searching for unique experiences that have individual significance..
Hôtels de Charme & de Caractère

Hôtels de Charme & de Caractère is Worldwide hotels collection. They have created a global hotel network that allows the hotels to unite commercially to find new customers in a commission-free cooperative system. This global alliance of hotels allows them to create a new marketing channel but also a system of mutual assistance and cooperation between professionals. The club is presented to customers as a quality label and a brand that allows us to gain visibility and earn their trust.
Green Key
Positive effects of responsible tourism are a major benefit for the environment.


Green Key Programme rests on 5 pillars: Education of staff, clients and owners towards increased sustainable development and environmental awareness in leisure establishments; Environmental preservation by the reduction of the environmental impact of eachestablishment in the world scene Economical management by the reduction of consumption meaning a reduction of costs; Marketing strategy by the promotion of the Green Key label and the establishments using the Green Key icon; Strengthening of the tourism and leisure branch by taking responsibility broader than then their individual establishments.
Getting awarded with Green Key means that an establishment has fulfilled a list of requirements. These requirements are contained in imperative and guideline criteria. Read more about Green Key here.
The Romantic Tourist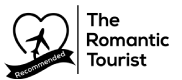 The Romantic Tourist is assisting people in finding the perfect place for their romantic occasions. They hand-pick hotels and travel experts who pride themselves in creating the best romantic experiences all over the world. They know how difficult and stressful it can be to get it right, which is why they are so passionate about helping to take your romantic dreams and turn them into a reality. They offer thousands of tailor-made romantic experiences, and with everything you will need in one place, direct booking and our bespoke service, you can count on finding the perfect romantic retreat.