Member of Luxury Group
Passion for Luxury Hotels featuring only The Best Luxury Hotels in Your destination.
Luxury Group is a global ultra luxury Hotel, Resort, Spa Safari Lodge organization featuring the very finest in hospitality facilities worldwide. We provide hotel guests with an option to eliminate the intermediaries through a direct path between the guest and the hotels. Intermediaries appear in many different forms and names on the Internet and elsewhere, nevertheless, they are still intermediaries and an extra layer between the guest and the hotels. Read more about our Luxury Group membership here.
Green Key
Positive effects of responsible tourism are a major benefit for the environment.
Green Key Programme rests on 5 pillars:
• Education of staff, clients and owners towards increased sustainable development and environmental awareness in leisure establishments;
• Environmental preservation by the reduction of the environmental impact of eachestablishment in the world scene
• Economical management by the reduction of consumption meaning a reduction of costs;
• Marketing strategy by the promotion of the Green Key label and the establishments using the Green Key icon;
• Strengthening of the tourism and leisure branch by taking responsibility broader than then their individual establishments.
Getting awarded with Green Key means that an establishment has fulfilled a list of requirements. These requirements are contained in imperative and guideline criteria. Read more about Green Key here.
The Romantic Tourist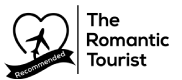 The Romantic Tourist is assisting people in finding the perfect place for their romantic occasions. They hand-pick hotels and travel experts who pride themselves in creating the best romantic experiences all over the world. They know how difficult and stressful it can be to get it right, which is why they are so passionate about helping to take your romantic dreams and turn them into a reality. They offer thousands of tailor-made romantic experiences, and with everything you'll need in one place, direct booking and our bespoke service, you can count on finding the perfect romantic retreat.